Incredible Health Benefits Of Kiwis
Kiwis are small fruits that pack a lot of flavor and plenty of health benefits. Their green flesh is sweet and tangy. It's also full of nutrients like vitamin C, vitamin K, vitamin E, folate, and potassium. They also have a lot of antioxidants and are a good source of fiber. Their small black seeds are edible, as is the fuzzy brown peel, though many prefer to peel the kiwi before eating it. Thanks to different growing locations, kiwis can be in season year-round. They're grown in California from November to May, and in New Zealand from June to October. Kiwi can also be found in supplement form. Here are the incredible health benefits of Kiwis.
Incredible Health Benefits Of Kiwis
Boosts the immune system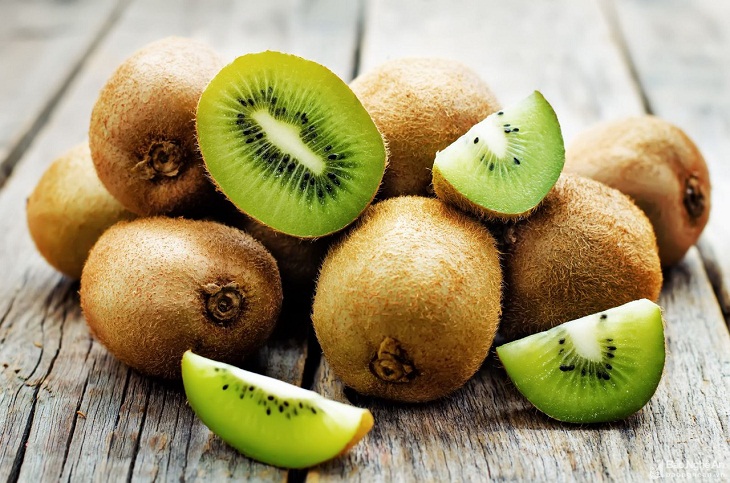 Kiwis are nutrient-dense and full of vitamin C. In fact, just 1 cup of kiwi provides about 273 percent of your daily recommended value. Vitamin C is an essential nutrient when it comes to boosting your immune system to ward off disease. One study even found that kiwis may support immune function and reduce the likelihood of developing cold- or flu-like illnesses. This is especially true in at-risk groups like adults over the age of 65 and young children.
Reduces blood clotting
In addition to helping us manage our blood pressure, kiwis can actually reduce blood clotting. A study from the University of Oslo found that eating two to three kiwis a day significantly lowered the risk of blood clotting. They were also found to reduce the amount of fat in the blood. Researchers said that these effects were similar to those of a daily dose of aspirin to improve heart health.
Protects against vision loss
Macular degeneration
 is the leading cause of 
vision loss
, and one of the incredible health benefits of Kiwis is that it might help protect your eyes from it. One study found that by eating three servings of fruit a day, macular degeneration was
decreased by 36 percent.
Kiwis' high levels of zeaxanthin and lutein are thought to contribute to this effect.
Treatment of Asthma 
The abundance of Vitamin C in kiwis has been linked to the reduction of wheezing symptoms in some asthma patients. This is especially true of children, who seem to benefit the most from the consumption of kiwis.
Healthful skin
Vitamin C contributes to the production of collagen, a key component in cells and organs throughout the body, including the skin. The vitamin also boosts the body's ability to heal wounds.
A 2019 review of studies found that taking oral collagen supplements may help boost skin elasticity and hydration and reduce wrinkles. Taking supplements is not the same as consuming vitamin C in kiwis, but eating the fruit may still help keep the skin healthy.
One kiwi weighing 69 grams (g) provides 64 milligrams (mg) of vitamin C. This represents 71–85% of an adult's daily vitamin C requirement.
Kiwifruit also provides vitamin E, or tocopherol. The antioxidant properties of vitamin E and its ability to help protect the skin from sun damage may help prevent skin disorders.
Better sleep
A 2011 study looked at the effects of kiwifruit on sleep quality in adults with sleep problems. The researchers found that eating kiwis improved sleep, according to self-reported measures.
The scientists suggested that this benefit may stem from the antioxidant and serotonin contents of kiwis.
Cancer prevention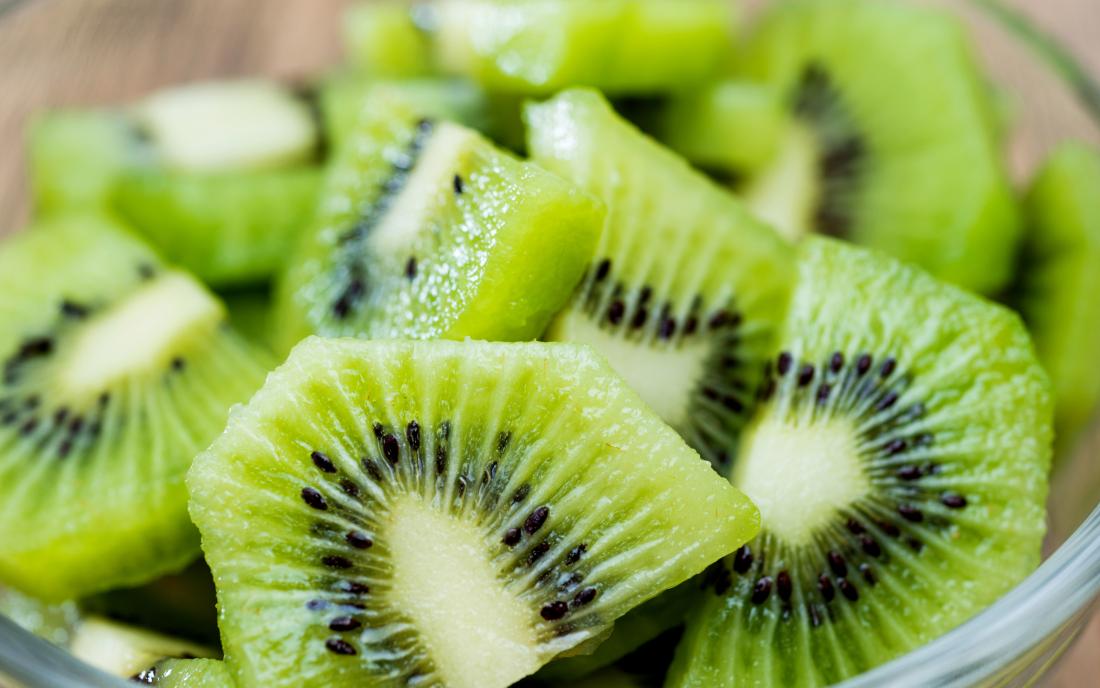 The National Cancer Institute note that high levels of free radicals in the body can cause damage to DNA that can result in various types of cancer.
Kiwis provide a range of antioxidants that help remove free radicals from the body. This is one way in which the fruit may help prevent cancer.
In addition, research has shown that people who eat plenty of fiber — especially fiber from fruits and cereals — are less likely to develop colorectal cancer than those who eat little fiber.
Good Source of Dietary Fiber
This exotic fruit is loaded with dietary fiber, which helps in the prevention of numerous diseases. According to a study done by the University of Leeds, "Increasing consumption of fibre-rich foods can lower risks of both cardiovascular disease (CVD) and coronary heart disease (CHD)." According to researchers at the University of Massachusetts Medical School, high fiber foods keep one full for longer and control metabolic markers like blood pressure, cholesterol and blood sugar. It also facilities weight loss and is often recommended to diabetics.
Tags :
Health
Health Benefits
Kiwis