Tourists flock to the West Java capital of Bandung to delight in the city's shops, restaurants, and eclectic collection of coffee shops. Bandung is packed with cosy places to nongkrong, the Indonesian concept for hanging out over a long period of time with great friends, a good atmosphere, and tasty coffee and snacks. Here are the best coffee shops in Bandung you should not miss.
Coffee Shops In Bandung
1. Blue Doors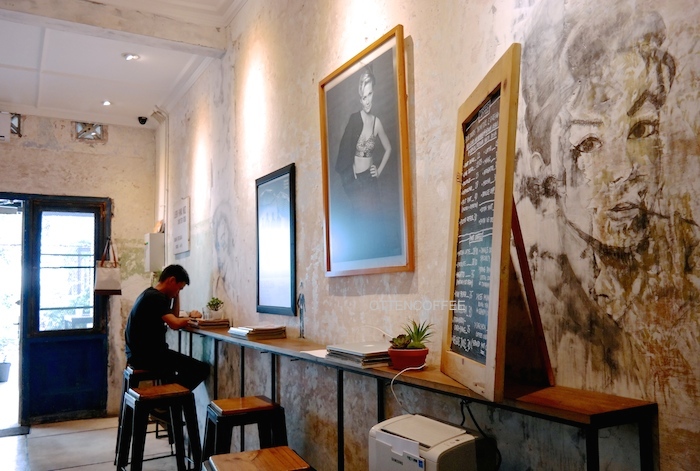 Blue Doors is one of the pioneer coffee shops in Bandung. They still maintain their existence up until now by moving their outlet to a more strategic area, the popular Asia Afrika street. In this new location, Blue Doors occupy a former old grocery store building called Toko Medan. With a unique interior design, there are 3 areas in this coffee shop that you can choose while sipping your coffee. The first is the bar area, the second is the garden area, and the third is the rooftop area.
Jl. Alkateri No.2, Braga, Bandung
2. Teduh Coffee
This coffee shop is like a hidden gem in Bandung. At Teduh Coffee you can enjoy your coffee surrounded by tall pine trees. It's guaranteed that you'll feel like you're up on the hills of Lembang. This coffee shop has a full outdoor area, so it is perfect for hanging out with friends.
Jl. Soekarno Hatta No. 783 Bandung
3. Grind Joe
his coffee shop has a cool industrialist interior design. Grind Joe also has a strategic location because it is located at the Dago – Sulanjana – Diponegoro intersection. So it is perfect for those of you who are looking for a coffee shop in the middle of the city. Recommended menus that you can try here include Joe's Iced Coffee and Honey Yuzu Tea which are really fresh.
Jl. Ir. H. Juanda No. 69 Bandung
4. Spadaa Koffie
Bandung's coffeeshop movement is sprinkled with a lot of cafes like Spadaa. Tucked away in the smaller buildings away from the busier commercial roads, Spadaa offers cosiness rather than space, and features a short but succinct menu of coffee, juices, sandwiches, and a few desserts. Spadaa does it with a little bit more style though. Located in an atrium behind a bright pink wall, another torn down wall separates the shabby-chic indoors from the garden outdoors where you're served through a window.
With a bakery, a separated section for smokers and vapers alike, wooden boxes for your bags and purses, Spadaa even caters to its foreign visitors by providing free mosquito repellents. It seems like they've thought of every little detail to make sure your stay there is as comfortable as possible.
5 Jalan Ternate, Jawa Barat, 40115, Indonesia
5. Tambuhak
Nestling itself in between two tall buildings near Pasteur, Tambuhak refers to itself as a food and beverage garden that is as much of a food court as it is coffeehouse. While at one end of the long garden six containers are stacked on top of each other that house the cafe, gelato bar, and rice bowl kitchen, further down the garden are five food stalls (or grobaks) and a mini market where you grab drinks out of the fridge yourself.
Tambuhak's main draw is that it is a completely open-air garden that lights up at night with its over the top collection of fairy lights. The second draw is that it operates like a self-service food court, keeping prices low by discarding all service tax and encouraging customers to explore and sit inside, outside, and even on top of their colorful containers.
No.100 Jalan Surya Sumantri, Jawa Barat, 40164, Indonesia
6. Two Cents
In the midst of the increasingly popular Riau area where there seem to always be new bars and restaurants popping up every day, Two Cents remains as one of the major draws for students and family alike. It is bustling with movement, energy, and enthusiasm. Brightly lit and covered in wooden panels and colorful murals, the positivity of the space is infectious.
Their experimental and fun approach to coffee is what makes Two Cents stand out the most, with their menu containing strange concoctions like the Basil Espressotini and Orange-Honey Latte Macchiato.
No.2 Jalan Cimanuk, Jawa Barat, 40115, Indonesia
7. Utara Cafe
A transparent igloo surrounded by endless rows of hay, a secluded group of tables illuminated by adorable fairy lights, and the opportunity to eat some delicious shabu-shabu! If this sounds like the perfect place for you to relax on one of your holiday evenings, then head on over to Utara Cafe.
Decorated with soothing light green hues, this cafe makes for the perfect Instagram backdrop. Not to mention, if you choose to dine in one of their igloos, you'll find yourself surrounded by endless amounts of light as they refract off the transparent windows!
Tags :
Bandung
Coffee Shops
drinks
Indonesia