Best Restaurants In Bandung, Indonesia
Finding a good place where you can savor good food and enjoy the view is almost mandatory when you are visiting Bandung. You will have a chance to take a break, relax, and breathe the fresh air around you. There are many best restaurants in Bandung with a breathtaking view, here we pick the best out of the best.
Best Restaurants In Bandung, Indonesia
The Restaurant Padma Hotel
Located above the green valley, The Restaurant at Padma Hotel will give you refreshing dining experience. While enjoying your beautifully created dishes, enjoy the breathtaking view and have a romantic moment with your loved ones. The restaurant has huge windows opening that lets you be closer to nature.
The 18th Restaurant and Lounge
Just like its name, The 18th Restaurant and Lounge is located on the 18th floor of the Trans Luxury Hotel, Bandung. They offer you a great point of view, where you can see the city view from above. What's more, they also serve innovative dishes with the finest ingredients that sourced both locally and internationally. You can also chill at their bar to enjoy the evening in Bandung.
Jalan Jendral Gatot Subroto, Bandung
Deja Vu Party Pit
Another unique spot in town to discover the panoramic city view and landscape. The sky was spotted at an award-winning rooftop overlooking of his beautiful city. The decoration, seating arrangement, menu, pricing, and beverage program are all reflective of the goal to create a cozy and chic gathering place for the community.
Lawangwangi Creative Space
Restaurant-cum-galleries are not hard to come by in Bandung. Many Bandung restaurants combine food and art, two of the things the city is known for. Lawangwangi takes a visitor's experience even further by providing views of sweeping hills from the seating area and a gorgeous wooden deck, aka selfie central. Their delicious Indonesian and European fare will fuel your body and mind before you head to their art gallery, with its ever-changing works that entice you to keep coming back.
99A Jalan Dago Giri, Bandung, Indonesia
Kampung Daun
This restaurant, a vast compound nestled on a lush hill in Bandung, is full of exciting experiences. The restaurant mimics a traditional village, filled with rivers, ponds, gardens and charming traditional huts in the dining area. The authentic village atmosphere gets you in the mood to devour Indonesian fare, especially the famed Sundanese cuisine. From this spot's music to its food presentation, each element creates a profound dining experience. The restaurant also has a stage for performances, souvenir outlet and kiosks selling traditional snacks and goods.
JM 4.7 Jalan Sersan Bajuri, Bandung, Indonesia
Dusun Bambu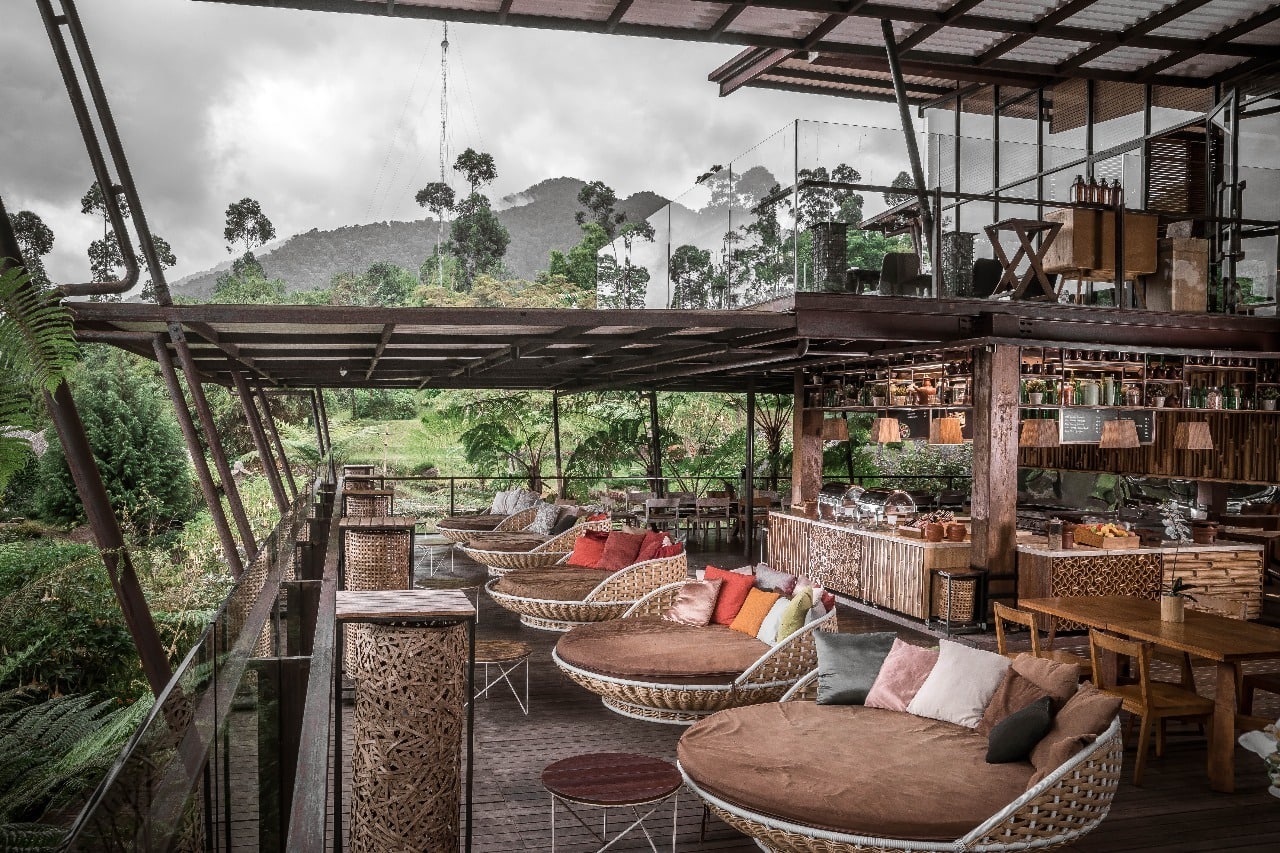 Dusun Bambu is a family leisure park, offering everything you'll ever need in an ideal Bandung getaway without leaving the compound. Other than the glamping site and resort, the establishment is cherished for its restaurants. From cosy lakeside cabanas to gorgeous birds nest dining rooms, eating becomes a memorable experience when you're at Dusun Bambu. Authentic Sundanese cuisine pairs well with the tranquil natural surroundings. Signature spicy dishes entice your senses and keep you warm in this calm, sleepy atmosphere.
Pinisi Resto
The ever-growing culinary sphere in Bandung has given rise to concept-driven restaurants that bring dining to a whole new level. Pinisi Resto has entered the scene in the form of a massive wooden ship that's docked by a lake and surrounded by lush greenery. The atmosphere alone dangles a carrot in front of local foodies and their unquenchable thirst for fresh dining experiences. The restaurant has a tranquil ambiance and is lovely enough for a weekend getaway but playful enough to enjoy on a family holiday.
Wedang Ronde Jahe Alkateri
One of the best restaurants in Bandung, this is an interesting dessert. Ronde or wedang ronde is a dessert of glutinous rice balls served in hot ginger syrup. The rice balls come in two sizes – small and big – with the bigger balls filled with ground peanut and sugar.
If you aren't used to the taste of ginger, then you might find the soup too strong, maybe even offensive. It's pungent, spicy, sweet, hot, and zingy. Like herbal medicine, you can feel the insides of your throat being coated with a warm tingly sensation with every spoonful. It's a pleasant feeling, especially if you have a sore throat.
Tags :
Bandung
Foods
Indonesia
Restaurants