Where To Stay In Banjarmasin
If you're taking a trip to Indonesia, it is best to stop over Banjarmasin to experience their famous floating markets. You can do a quick overnight stay or extend it to a week depending on your itinerary. One thing's for certain, your stay can be accommodated by the friendliest people in Banjarmasin's coziest hotels. Here are the best hotels in Banjarmasin with excellent service, clean and chic interiors, enticing dishes, and spacious rooms. Ready to take your pick?
Best Hotels In Banjarmasin
Aston Banua Hotel
Aston Banua Hotel is located strategically between the Syamsudin Noor Airport airport and the city. It serves as an ideal meeting place for those transacting businesses in Banjarmasin or for travelers who need a quick overnight stay. The structure can be easily spotted with its attractive architecture.
You can choose between a deluxe room or a suite. Both offer a spacious working area and a stylish bathroom. The WiFi connection is also excellent.
Their in-house restaurant offers a variety of choices from Indonesian cuisines to Western and Asian dishes. Everything in your plate is served with fresh ingredients and are served from 6 a.m. to 11 p.m. You will never feel like a stranger with their warm accommodations. Hotel employees are helpful and speak English fluently.
TreePark Hotel
TreePark Hotel is distinct for its inviting landscape, which provides a perfect view at night. From the lobby, you can easily see the hotel's artistic and modern look. You will feel like you're in a gallery or an art center because of the unique decorations and stylish furniture they use.
Everything complements each other, from the choice of colors to the interior design. It's a good place to stay if you're looking to spend some quiet time alone or you want to have warm conversations with your business partners. The hotel's Intro Bistro will give a perfect ambiance for this. They serve a la carte dishes for lunch and dinner. Moreover, the Arbor's breakfast buffet, which you'll also find in the hotel, is really sumptuous!
G'Sign Hotel
G'Sign Hotel is a 4-star hotel with more than 100 rooms, two ballrooms, and 11 meeting rooms. You will enjoy unlimited WiFi access in all areas and a comfortable stay in their spacious rooms, all with flatscreen TVs and a minibar among others. You have many room sizes to choose from depending on your need and budget.
For instance, their Nikkei double or twin room measures 30 square meters (323 square feet) and comes with a wardrobe/closet, safety deposit box, a carpeted floor, and city view. They have an in-house restaurant serving Eastern and Indonesian dishes for breakfast, lunch, and dinner. And for a more private bonding with your family, you can take a dip in their indoor pool.
G'Sign Hotel offers affordable prices for an overnight stay. They also give away promos and discounts every now and then. It's really worth it!
Mercure Banjarmasin
Located in the city centre on top of a leading mall in Banjarmasin, surrounded by business and leisure spots and only 60 Mins from Syamsudin Noor Airport. Mercure Banjarmasin has a stunning panoramic view of the surrounding city. The hotel has 2 restaurants, 2 Bars and 1 meeting room with a capacity of up to 300 delegates. All 180 rooms come with a modern and stylish decor.
Favehotel Ahmad Yani Banjarmasin
One of the best hotels in Banjarmasin, Favehotel Ahmad Yani Banjarmasin is offering accommodation in Banjarmasin. Among the facilities of this property are a restaurant, a 24-hour front desk and room service, along with free WiFi.
Swiss-Belhotel Borneo Banjarmasin
Swiss-Belhotel Borneo is conveniently located near Banjarmasin city centre and offers free tours of the floating market. The breakfast was wonderful with a great range of dishes, including many local specialities and an egg station.
Rattan Inn Hotel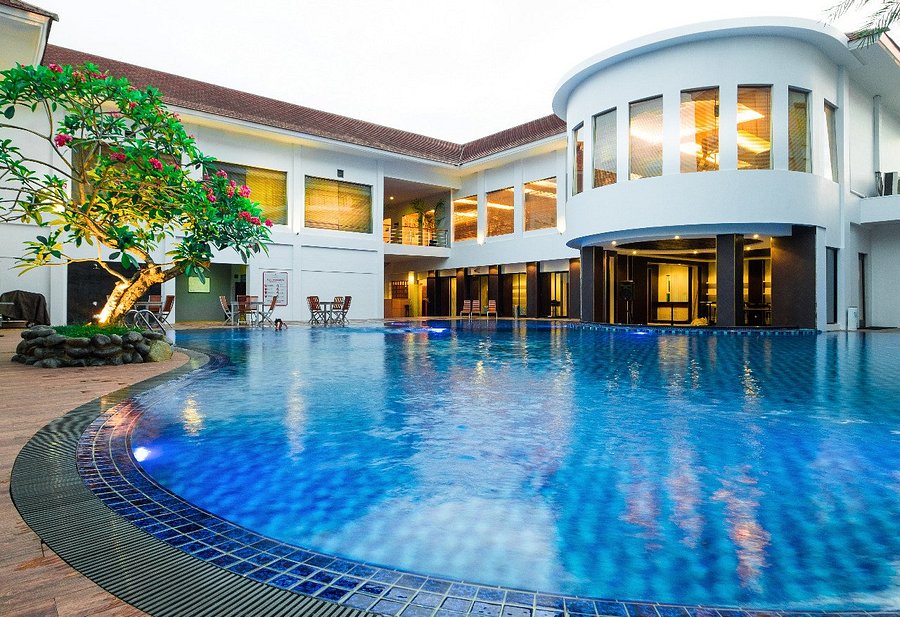 If you're in Indonesia and craving some really good Japanese food, you better check in at Rattan Inn Hotel. They have a good selection of Japanese dishes served fresh daily in one of their in-house restaurants, Sakaeru Japanese Restaurant. They also have dining places for Western specialties and local delicacies.
The hotel takes pride in their resort-themed ambiance with a big outdoor pool and a relaxing spa. Their elegant and spacious meeting rooms also make them a good venue for conventions or conferences. But if you're traveling for leisure, you can choose to have a room with a terrace overlooking the pool or have a relaxing stay in one of their 165 rooms. Rooms have a minibar, desk, sitting area, and fast WiFi connection. They also have an in-house doctor and a reliable business center for travelers on the go.
Tags :
Banjarmasin
hotels
Indonesia
travel